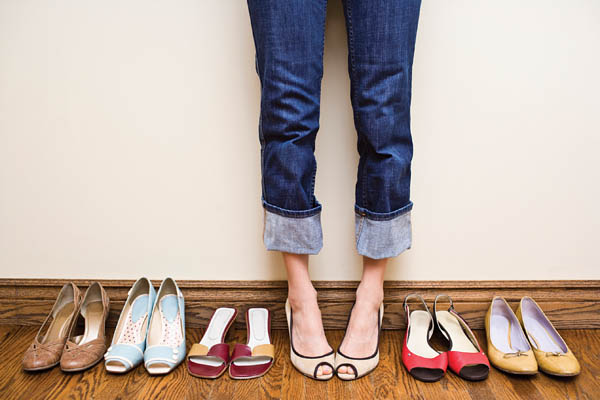 Dureri picioare? Ce spun pantofii despre personalitatea şi relaţiile dumneavoastră?
Un studiu al psihologilor de la University of Kansas si Wellesley College ilustreaza cum putem judeca personalitatea, statutul si opiniile politice ale altor persoane bazandu-ne pe pantofii lor. Ei au studiat de asemenea, cat de bine se coreleaza aceste presupuneri cu adevarata lor personalitate. Dureri picioare.
In studiu, publicat in Journal of Research in Personality, cercetatorii au pus 63 de studenti sa privesca mai mult de 200 de fotografii cu pantofii preferati ai altor studenti pentru a le descrie personalitatea, daca sunt mult prea implicati sau detasati in relatiile cu ceilalti, daca sunt conservatori sau liberali. Apoi au comparat aceste presupuneri cu descrierile pe care le-au facut despre ei insisi cei care si-au fotografiat pantofii preferati. Cercetatorii au concluzionat ca exista o corelatie clara pentru unele tipuri de personalitate si comportament in relatii – dar nu in ceea ce priveste opiniile politice.
"Oamenii au presupus ca cei care au pantofi mai putin atractivi, care trebuie reparati si mai putin stilati sunt liberali", a spus co-autoarea studiului Angela Bahns, un profesor asistent de psihologie de la Wellesley. "Dar cand am verificat acest lucru cu datele reale, nu era cazul".
Care impresii erau adevarate? Subiectii eu presupus ca cei care purtau pantofi nedecupati si masculini au personalitati mai putin agreabile, iar acest lucru s-a potrivit cu auto-descrierierile. Au presupus deasemenea ca cei care poarta culori neutre de pantofi (maro, aramiu, gri, negru) sunt predispusi sa-si autoanalizeze prea mult relatiile – nu ma iubeste asa mult cum il iubesc eu – in timp ce persoanele cu pantofi mai colorati au mai multe incredere in relatiile lor.
Este interesant ca subiectii au asumat ca cei care au pantofii cei mai atractivi si mai bine pastrati tind sa fie mai meticulosi, dar in auto-descrieri ei nu s-au descris asa.
Totusi meticulozitatea avea legatura si cu culoarea de fundal a fotografiei cu pantoful. Cei care aveau fundaluri colorate se aflau mai sus pe scara meticulozitatii decat cei care aveau un fundal alb sau plictisitor.
Te dor picioarele? Se umflă seara, după o zi încărcată? Vino la CONTROL la Centrul de Podologie Ahile!
Unele dintre concluziile trase, erau evidente: pantofii atractivi si stilati erau conectati in mod corect cu un venit mai mare. Barbatii tindeau sa poarte pantofi mai scumpi decat femeile. Tineti minte ca era vorba de studenti, asa ca multi dintre ei purtau pantofi sport, sandale si flip-flops, nu pantofi cu model perforat si Louboutin.